SchoolPass adds an extra level of security to your campus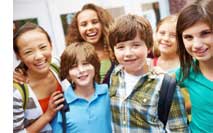 Protect your students and staff from predators and other unauthorized visitors with the new SchoolPass system from Scarsdale Security. SchoolPass lets you safely identify visitors before granting access to offices, cassrooms, yards or any other parts of your campus.
How SchoolPass works
A visitor to your facility uses a video intercom to speak to a remote security specialist
The security specialist asks the visitor to place his or her driver's license on a small scanner next to the door
When the security specialist matches the video image to the scanned ID, a visitor badge is printed using the visitor's scanned driver's license
The door to the building is unlocked and the visitor is invited to proceed to the main office
The visitor is announced to the office personnel via two-way radio
Updated Visitor Database
SchoolPass lets us check visitors against a database of authorized and non-authorized visitors, including:
Approved parents and family members
Approved parental representatives
Scheduled appointments for pre-registered visitors are approved in advanced via email
Approved district personnel, picture ID required
Approved vendor list, picture ID required
Non-approved or offender lists, if available
SchoolPass information and subscriptions
Ask your Scarsdale representative about affordable subscription plans, or call Scarsdale at 914-722-2200 for complete system information, costs and greater protection for your students and staff.
Using the SchoolPass system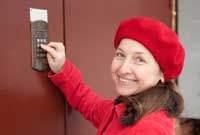 Parents or other visitors ring in from the lobby on a video intercom, where they also
present their driver's license to be scanned as a photo ID.
We validate the visitor's identity and print out a photo ID card for use during their
visit. Access to your facility is then granted
SchoolPass includes a video intercom, scanner and an ID card printer located in your lobby. Advanced, two-way communications technology allows us to monitor and talk to visitors remotely.